$103,378
=
287

kids in school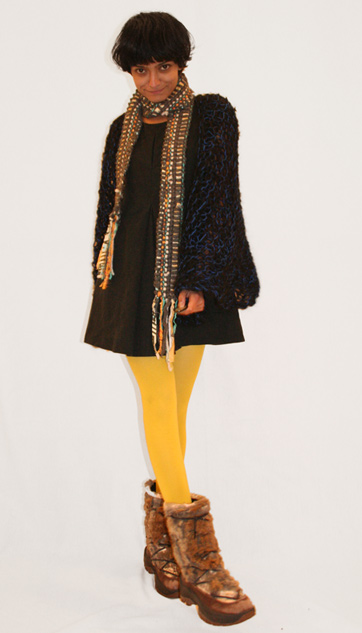 This day belongs to Jasmine Mensen.
"Once again you have provided your loyal UP devotees with wonderful eye candy! There's definitely a dressed-in-the-dark quality to this ensemble, but I'm sure the vibrant shade of yellow in those tights was the perfect ray of sunshine in everyone's day."
Each Ltd Edition U.P dress represents a day in the U.P calendar.
Own Your Day >
Day 286. Wed, February 10 2010
Patrolling Planet Hoth
Cosy in my snow boots as Brooklyn turns into an ice planet. I think I just saw a Tauntaun run down the street. Also donning a handwoven scarf made from reclaimed yarn donated by Amy Oates at GoYellowGo.etsy.com and a handknit cloak donated by Christina Skreiberg at the-christinaskreiberg-shop.com.

Fashion Week at the U.P
New York is moving full speed ahead against the elements, amping up for seven days of fierce. We at the U.P have something special in store for you. Read more >
Comments
---